Family history
Davidow Family History, by Wallace Davidow, 1989
Memories, by Dottie Heller, 1989
Family web directory
Brenner, Anita. Read her columns and songs at anitabrenner.com
Davidow, Ari. His personal and family webpages are at www.well.com/~ari
Davidow, Daniel. Son of Harry and Jeanny Davidow. His family website is at www.davidowfamily.com. Note the great photo album.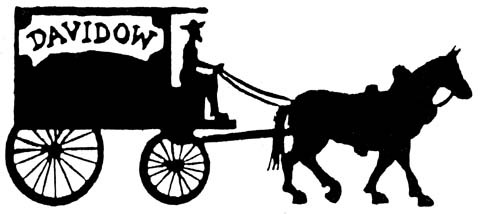 This marks the new home of a webpage dedicated to the descendents (and associated outlaws) of Daniel and Ethel Davidow. I hope to put the family history into HTML and upload it over the next few months, and especially hope that there will be a weblog here of family notices, events, and simkhas. Come visit often, and do send e-mail, images, sounds, home movies--whatever electronic stuff you've got that you'd like to share with the rest of the family.
Davidow Family Reunion IV, 22-24 Aug 2003
As summarized by David Heller: The Davidow Reunion IV is scheduled for the weekend of August 22-24, 2003, the weekend before Labor Day, at the Sheraton Hyannis [Cape Cod, Massachusetts] and should be a winner. Excitement is rampant! So, I have a few requests to make. First, and most importantly, call the Sheraton (508-775-7775) and make your reservations--now. Be sure to tell them you are part of the famous Davidow Reunion. Then, send me some money--$50-100/family would be great. (David Heller, 11 Wanders Dr., Hingham, Mass. 02043) Finally, start thinking of stories (that should be the easy part).
The News
5 Mar 2003: A bomb goes off in Haifa. It is rare that terrorists strike this city, home of Moshe and Zahava Davidow and their children. This one occurs in their neighborhood. Moshe reports to the list to the relief of all: Just a quick note to let you know that we are all okay. I was in a meeting, Zahava was downtown, Orr had already gotten home, Lili is in the army, and Ohad, who usually takes that bus home, is in an Army training course this week. We were indeed very lucky.
2 Mar 2003: Expressing her condolences for Paul Girshoff, Anita Brenner also updated us about her son, Andrew: ... Finally, I'd like to share some good news about our son Andrew Torres. Many of you saw him years ago, at the Nevele reunion. Some of you are aware that he was diagnosed with cancer last year. He is now doing well and is hoping to get to Quantico by June to catch up with his class. He is, of course, a 2d Lt.in the USMC, currently stationed at the Naval Academy.
1 Mar 2003: Alan Stern posted to the list today: Sadly, I learned of the passing of my Uncle Paul [Girshoff] last night. I have special memories of him taking me fishing as a boy and his warm, interested demeanor and "friendly handshakes," in which he attempted to crush one of my metacarpal bones... come to think of it, I think he probably taught me about the importance of firm handshakes...
Anyway, his passing has brought back a lot of sentimental memories of the family and the old family circle meetings. His is the first passing of a sibling in my mom's family. Ruth is making arrangements to fly in from Lake Worth for the funeral, which will be in Patchogue tomorrow or Monday.
Our heartfelt sympathies and condolensces go out for Sarah, Barbara and David, as well as his grandchildren, extended family members and friends. Today was his 91st birthday.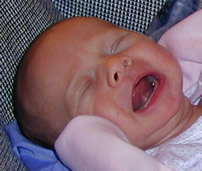 15 Feb 2003:It must be the season! David and Nancy Heller announce: Congratulations to the Cohen family on their new addition, Grayson. Nancy and I also have a new grandchild to announce--Chloe Frances [Wendell], born January 28, 2003, to Kim and Douglas Wendell, at 6lbs 13 oz. and looks just like her sister, Madeline! Right now Maddy seems glad to have a sibling. Kim is doing well and Nancy has been enjoying helping out for the past two weeks while I have been commuting weekends. Karen was right--I am thoroughly enjoying grandfatherhood. Hopefully we can present these new members of the extended family at the REUNION !!! in August.
12 Feb 2003:Danielle and Buzz Cohen announce: We are so happy to be able to announce that our children, Elyssa & Paul Kornberg are the proud parents of a beautiful baby boy, Grayson Rey [Kornberg]. He was born in the early hours of Feb.10th in Tampa, Fl. Wt. 8 lbs, 5 oz. and 22 inches long. Baby, parents, and big brother Jonah are doing great.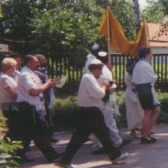 10 October 01: Anita Brenner sent these photos of the New Jersey people delivering their torah to the congregation in Zvenigorodka.: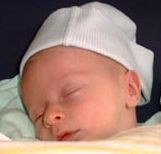 23 Jan 01: Linda Bacon, daughter of Janet and Bob Bacon, and her partner, Anne Coyle, are pleased to announce the birth of their son, Isaac Bacon Coyle. The baby was born at 7 lbs 9 oz. A welcoming ceremony will be held in Kensington, CA, on 14 Apr. In the meantime, we have a more recent photo (24 Mar 01) as well.
22 Sep 00: It has been a true "best of times" and "worst of times". Family member Shoshi Bacon sums up some recent happenings, noting that Danielle Strauss has gave birth to a healthy baby last month, Michal. It was a difficult birth, but mother and daughter are doing well, as is father Sammy. Janet and Bob Bacon have bought a new apartment in Florida, near Danielle and Buzzy Cohen who have just recovered from a serious car accident down there. Janet and Bob are going on their second trip to Africa soon. They will be taking their middle nephew, Alex. This sacrifice is being undertaken to make up for taking their oldest nephew, Jeremy, this past summer.
Family members were stunned last week when Wallace Davidow, WDavidDow@peconic.net announced that the long-awaited reunion was not to happen at the end of October due to low attendance. It's been a long time since a reasonable subset of the family has gotten together, and I hope we correct this situation soonest.
This observer, upon consultation with his significant other as to when her family has its gatherings, would like to reinforce the previously-held wisdom that there is a golden opportunity in June when school is out, and before kids are off to camp and everyone is tied up with other plans. The time is occasionally interrupted by weddings, but is otherwise the best time for getting families together successfully, especially if the goal is to include as many kids as possible. But there may be other opinions :-).
7 Apr 2000: Davidow family reporter Mindy Heller gleefully notes that her sister Kimberly Heller Wendell who is married to Douglas Barrett Wendell had a daughter on April 7, 2000. Her name is Madeline Reese Wendell. (At the time of reporting, in Sep 2000, Madeline was "now 6 months old and the world's most perfect child." Her birth also inaugurates the family "sixth generation" list of descendants of Daniel and Ethel Davidow.
Family Web pages
Back in 1989, when we held the first family reunion, Wallace Davidow, WDavidDow@peconic.net, wrote up a history of the descendents of Daniel and Ethel Davidow. Dottie Heller also provided me with her own reminisces of Daniel and Ethel, and of growing up in Patchogue.
Anita Brenner has put up a web page featuring her columns, songs, and other writing, at anitabrenner.com
Rahbie Davidow, daughter of Rachael Davidow, layladav@netvision.net.il , and resident of Beer Sheva, Israel, has her own scrapbook
I've documented the 1998 Bacon-Davidow* family seder (e.g., "descendents of Frieda and Isidore Davidow and their associated outlaws who happened to be on the East Coast that season"), held at the home of Janet and Bob Bacon, bcn44@yahoo.com.
My father, Robert Davidow (son of Frieda and Isidore Davidow) died of a sudden heart attack while visiting Eilat with my mother and sister (in celebration of my mother's birthday) on 4 April, 1997. In his memory, here are notes and photos from a trip the four of us made in September 1995 in which he showed us his childhood haunts and finally told us stories about growing up on Long Island and Brooklyn. Think of this as the first teaser installment in the archives of the descendents of Daniel and Ethel Davidow.